Via Astoria River to Tonquin Valley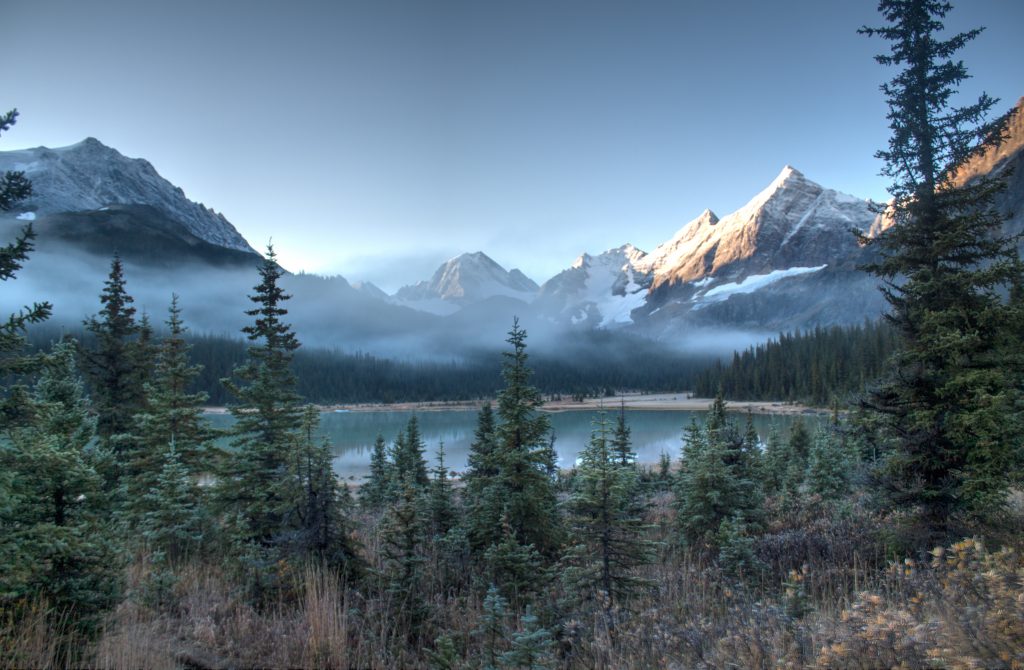 There are many reasons to visit the Wates Gibson Hut. For me, it was the realization that I had not visited one of the locations where the Sierra Club brought Ansel Adams in 1928 (he was 15). The nearby Tonquin Valley is famed to have inspired him to become a professional photographer.
While this has a longer approach than most, the elevation is quite reasonable and gentle. Overall, the Astoria Trail is in good condition when it isn't wet and muddy.
For those travelling to this hut in winter, you will have to add 12 km to the route as the road to Mount Edith Cavell is closed. Most winter parties will plan to spend a night at the Mount Edith Cavell Hostel to make the distance more manageable.
Stats
| | | | |
| --- | --- | --- | --- |
| Hut Altitude: | 1,900 m (6,235 ft) | Trail Length: | 17.5 km |
| Net Altitude: | 320 m (1050 feet) | Difficulty: | Class 3 |
| Time to Hut: | 4-6 hours | Map: | 83D/9 (Amethyst Lakes) |
Trailhead
From the Icefield Parkway, the Road to Mount Edith Cavell is approx 15 km south of Jasper, Alberta and accessed by turning on to Highway 93A for a brief time, then following the signs to the Mount Edith Cavell Parking Lot. The trail head can be found adjacent from the Mount Edith Cavell Hostel and is shared by the Astoria Creek Trailhead. Do not park at the Hostel, or you may be towed.
The Trail
The well worn and defined trail starts in a heavy forest, which continues for the majority of the route. Jasper is characterized by wider valley which often have a more marshy terrain than one might be used to in the Canadian Rockies. This can leave the trail to be quite muddy most of the year, especially if there has been higher than average precipitation.
Up to the halfway mark (approx 8 km), the trail is relatively flat and has negative elevation gain. At that point, the climbing begins.

At the 13km mark, you will come to a fork in the trail, with the main trail leading to the Tonquin Valley ascending to the right. The route to the hut will break to the left, leading you across a small basin to a trail leading up the left side of the valley. This portion of the trail is not as well maintained, and has many wet spots at creek crossings and marshes. If your boots stayed dry up to this point, prepare for that to change.
Eventually, you will pass Chrome Lake with approx 1 km left to the hut. At 500m you will arrive at the junction to Tonquin (to the right), and turn left to where you'll soon find the hut.
What to do once you arrive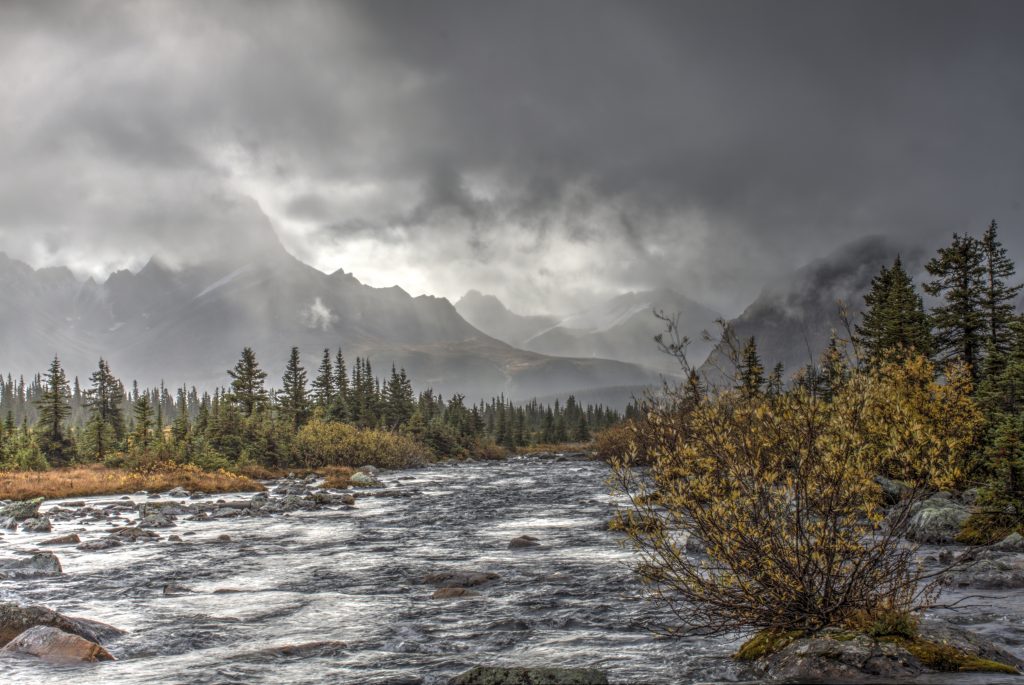 This is an area that has too many objectives to list. Rather than try and be exhastive, I'll touch on the easier, low hanging fruit.
Hike Tonquin Valley – This valley contains the vistas famed to inspire Ansel Adams to pursue a career in photographer.
Too many summit scrambles to list. If this is your thing, you'd be well served to buy a guidebook for the area.
Advanced climbing and mountaineering. For those looking for some rock climbing or general mountaineering, there are a number of summits that provide challenging routes and summits.
Skiing – this is a wonderful winter playground for those willing to make the trek. While much of the valley is basic and open terrain, the routes in pose some challenges. For those with skills in navigating extremely complex avalanche terrain, there are endless lines where you'll have absolutely no competition for first tracks.
Exit via Maccarib Pass/Portal Creek – approx 30 km route the Hut, the Maccarib Pass/ Portal Creek Trail offers amazing views as an alternative to the Astoria Trail, but will require shuttling vehicles approximately 21 km between the Portal Creek Trailhead to the Astoria Creek Trailhead.
Where to stay
Wates Gibson Hut – a 4-6 hour hike up the Astoria River Basin. The hut must all be booked through the Alpine Club of Canada's website or by calling their Canmore Office. You MUST have a booking to stay, as all huts are locked and allow room for only a certain number of patrons.
Tonquin Valley Adventures Backcountry Lodge – A fully outfitted lodge, the comfort they offer comes at a high cost, but I've never once heard someone complain about their value for what they paid. Food, horseback riding, lodging, etc, is all taken care of for you.
Tent Camping – Refer to Parks Canada's website as all camping in parks is operated and booked though their website. Booking the designated campsites can be difficult as this is always an extremely popular destination.
Refer to Parks Canada's rules if you are considering the possibility of an overnight bivvy in the backcountry.
What you need to know
Parks Canada requires:
an entry pass that can be purchased at the entry gate.
a back-country permit (or annual wilderness pass).
Pictures