This is part of a larger series, our North American Rocky Mountain Tour. This leg takes you through the Northwest United States along the west coast, from Otter Crest Scenic Viewpoint, Oregon (west of Eugene, Oregon) to Crescent City, California.
Day 3 – Otter Crest Scenic Viewpoint, OR to Crescent City, CA via Crater Lake National Park, CA.
This leg starts at the Otter Rock, Viewpoint Oregon and ends near Crescent City, California. It includes crossing the California/Oregon border, where they inspect your vehicle for produce which may pose threats of disease to their agricultural industry.
This day is a bit of a marathon, so feel free to break it up into 2 days, depending on what you plan to do at Crater Lake. We spent about 4 hours hiking and made it back to the coast in one day. If you want to adventure longer, I'd recommend planning an extra day here.
Driving the 101 south, turn east at Newport, Oregon on to Hw 20. At Corvalis, Oregon the same highway turns into Hw 34. When you reach I5, turn south. Once through Eugene, Oregon, turn on to Hw 58 and follow it until it ends at Hw 97 where you will turn south. A short time Hw 97, turn right (west) on to Hw 138 at Diamond Lake Junction. When you reach the park gate, turn south on to Volcanic Legacy Scenic Byway which will take you into the park.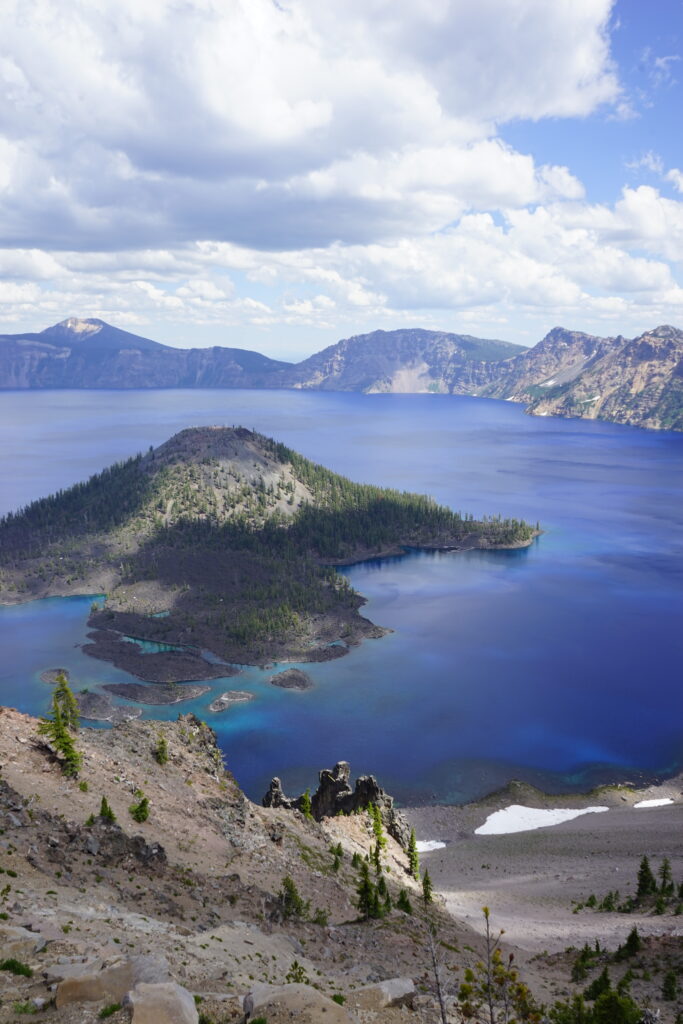 Noteworthy stops:
Watchman Overlook: Park at the Watchman Overlook parking area. The view from here is spectacular, but if you have restless legs from the drive, take an hour to hike to the overlook above. There is a well worn path heading southwest.
Driving/Hiking/Running Rim Drive and Rim Trail which circumscribes the rim of the crater. This is probably the best way to experience Crater Lake. For the drive, plan for 3-4 hours as the loop is 53 km long and there are many great places to stop along the way (see below). For a hike, you would need to plan based on your capabilities, but 2-3 days should be sufficient. To run it would pretty much be a marathon and a half, so if you are ready for the run of a lifetime, you don't need any advice from me except to know that there is a good measure of elevation change. Lace up and get at 'er!
Wizard Island Boat Tour: The second most touristy thing you can do here! Hop on a boat and go for a short hike on Wizard Island. It should be noted that swimming in Crater Lake is restricted to within 100 feet of Cleetwood Cove and Wizard Island. I was hoping to swim from the crater edge to wizard island only to discover that is it illegal according to the National parks Service.
Cloudcap Overlook: A notable overlook as it is the highest point around the crater that can be reached by vehicle.
Sinnott Memorial Observation Station and Rim Village Visitor Center: This is the most touristy stop along the rim, but worth it for the learning opportunities found in the Visitors Center.
Once on the road back to the coast, we lucked out around dinnertime to find one of the highest rated buritto shops in Grants Pass, Oregon called Casa Amiga. Be warned though, an $8 burrito will feed 2-3 kids. We made the mistake of getting them one each and ended up eating the remnants for the next few days. It was a delicious mistake.
When leaving the park, we took the Volcanic Legacy Scenic Byway to Hw 62 and headed west toward Medford, Oregon. just before reaching Medford, we turned west again on Hw 234 towards Grants Pass, Oregon. When we reached Gold Hill, we turned west yet again on to I5 until we reached Grants Pass. From there, we turned on to Hw 199 where we passed the Walmart and Casa Amiga, and continued west to the Oregon/California border through a beautiful redwood forest.
When we reached Crescent City, California, we turned north on PCH 101 crossing back into Oregon to stay at the Oregon State Department of Transportation Rest Area at Harris Beach State Park. The rest area is equipped with wash rooms with running water and flush toilets and is directly across the highway from the Harris State Beach Park, which also has a campground and picnic area.